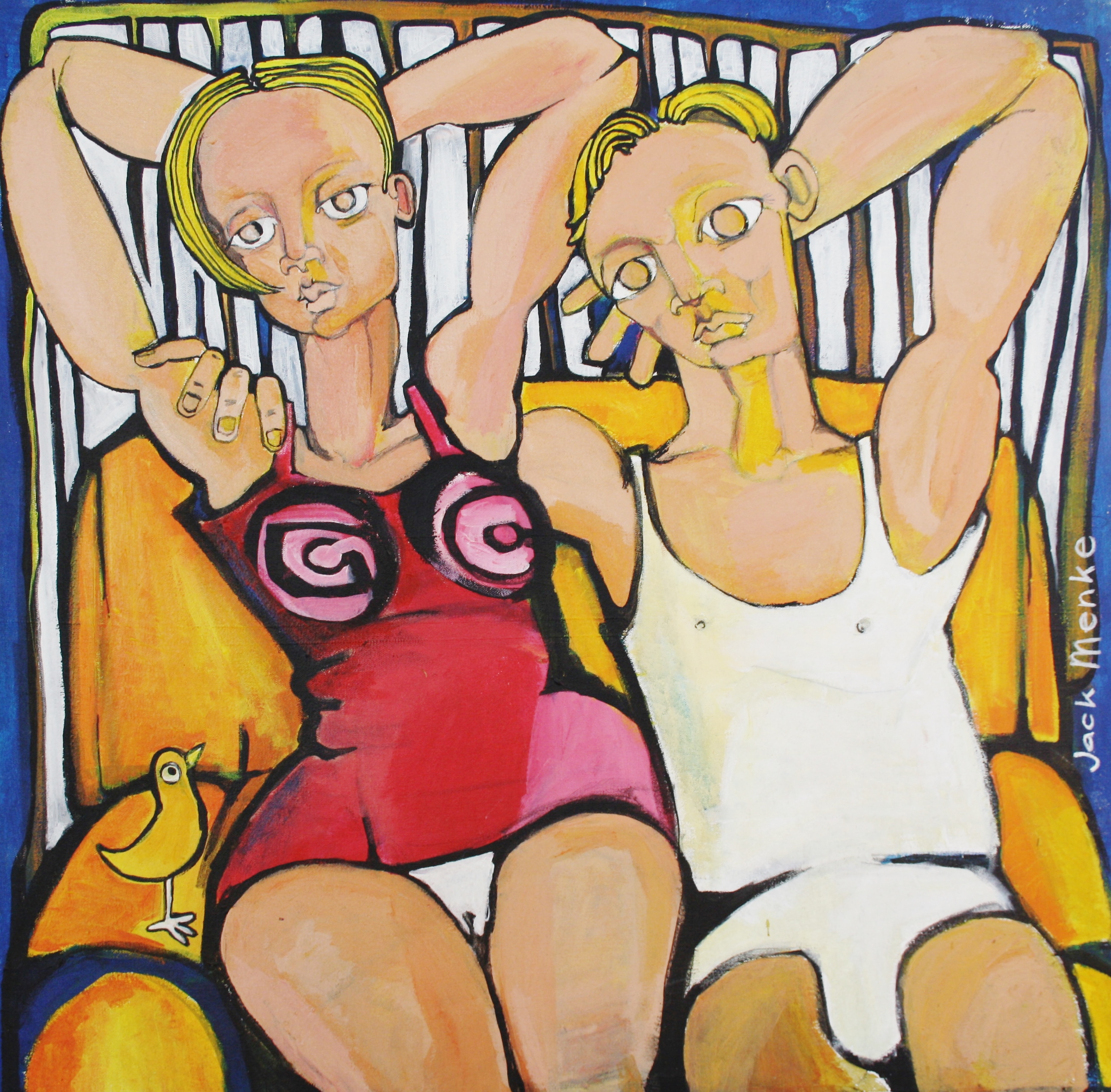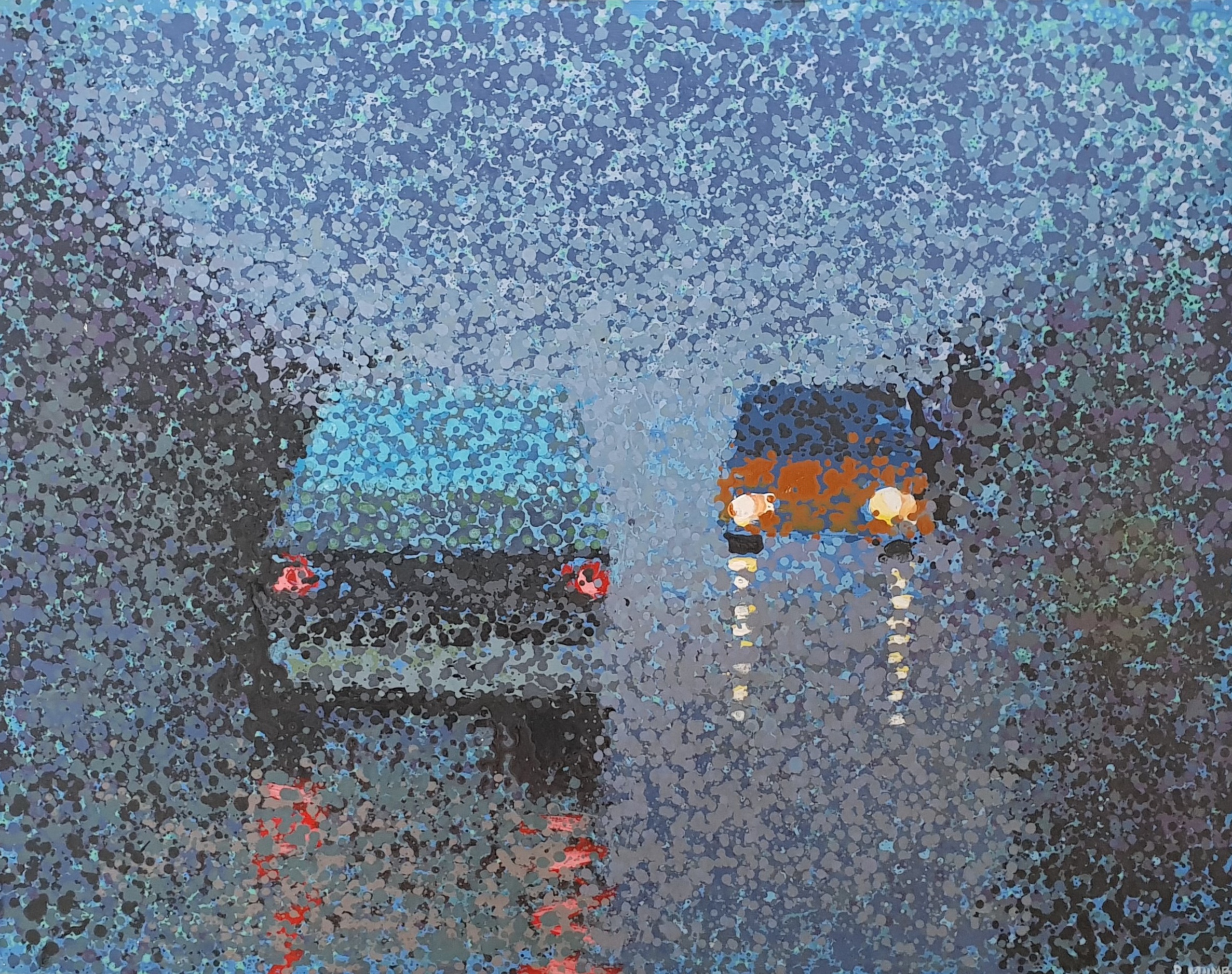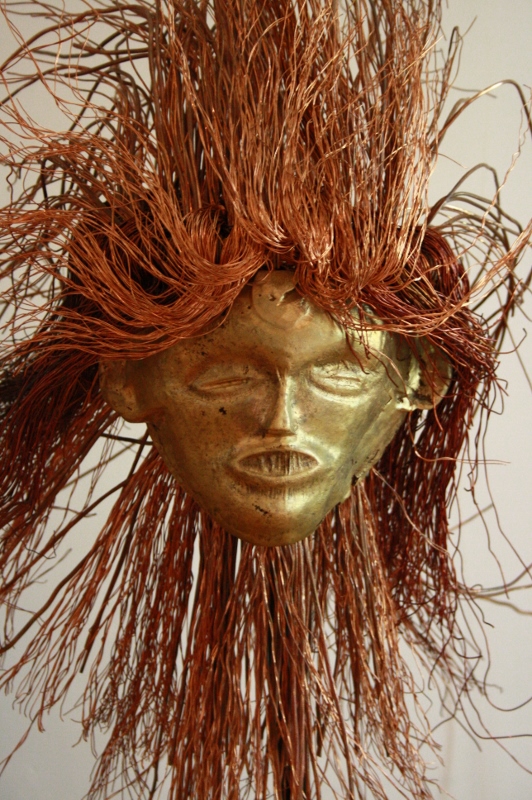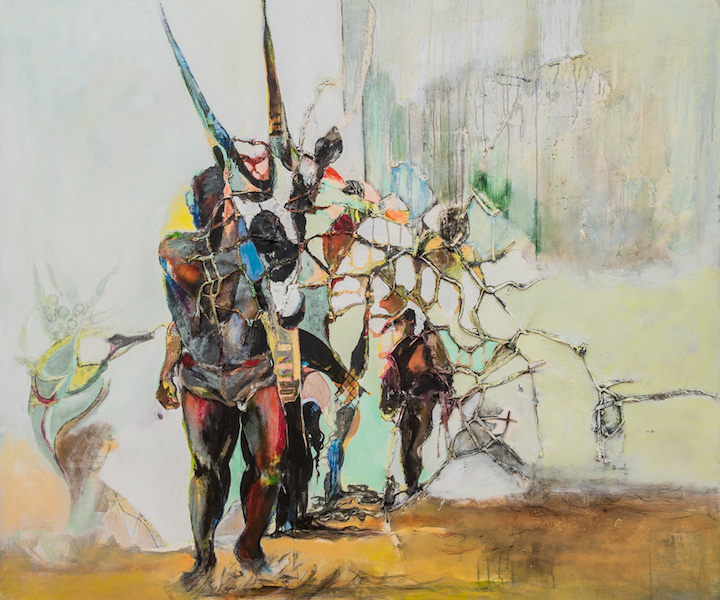 Emily Kirby
Emily Kirby was born into a family of artists in Zambia in the early eighties. Although young when she came to the UK these roots have always had a deep impact on her painting. Emily now regularly returns to travel, paint and exhibit in Africa.
The majority of Emily's work draws on the study of people and wildlife, using the figure as the central object for interpretation. Kirby is primarily concerned with exploring methods of painting that allow her to celebrate emotion, movement and expression in a free and powerful way. Bold brush work and a loose expressive technique has become a defining aspect of Kirby's work, however an investigation into colour and form lay at the heart of her practice.
Emily has exhibited internationally and in 2012 was awarded The Chairmans Ngoma Award for Visual Artist in the Diaspora by the Zambian Arts Council. Emily can currently be found working in her East London studio.
Gladys Kalichini
Gladys Kalichini is a visual artist who was born in Chingola, Zambia in 1989. She began her primary education in Botswana, and then later transferred to Zambia. She holds a Bachelor of Arts (Degree) in Economics and minored in Demography (Population Studies) from the University of Zambia. She explored and acquired an introduction to art as a profession through apprenticeship at the Arts Academy Without Walls beginning in 2008. She served for Insaka Artists' International Trust as the coordinator's secretary in 2008. She is also the recipient of the Julia Malunga Ngoma award for best female visual artist for the years 2010 and 2012.
Gladys Kalichini is a contemporary painter who draws great inspiration from the things around her including poetry and history. She is fascinated by the social and cultural dynamics which she subtly incorporates in her works. As an artist, she uses her art to bring attention to many social inadequacies especially the minimum female participation in the Zambian contemporary art scene. She finds strength in the stories of phenomenal women both past and present and therefore pays tribute to them by the designed female silhouette that is dominant in most of her works.
Mwamba Chikwemba
Mwamba Chikwemba is a female visual artist based in Lusaka, Zambia. In 2010 she completed high school and in 2012 shegraduated with a certificate in information communication technology.
In 2014 she graduated with a diploma in public administration at The National Institute of Public Administration.
Artist Statement
"My painting style and technique is self-taught. I have a tendency to work on a rather large format, incorporating the use of contrast and good composition.
The subject matter in itself emphasizes pride, confidence, beauty and in this case usually young women, the subject being more often than not, women's smiling faces. The colours, head wraps speak to the vibrating power of the female soul and eyes share the same hardship of being a woman today in a society dominated by men.
Therefore, the interpretation on the whole is kind of an abstraction; rather than a realistic one, of the young woman's position in society. When done it often creates a rather bold, energetic and dramatic image.
I started out painting portraits of women from the Internet I have since moved onto doing more personal work, focusing on creating portraits of people I know. I use my neighbours, relatives and friends to create more personal works with a deeper message.
I constantly challenge myself in my painting and while I feel confident in the style that I now work in, I will keep introducing new ways and techniques of pushing this style forward and developing it even further."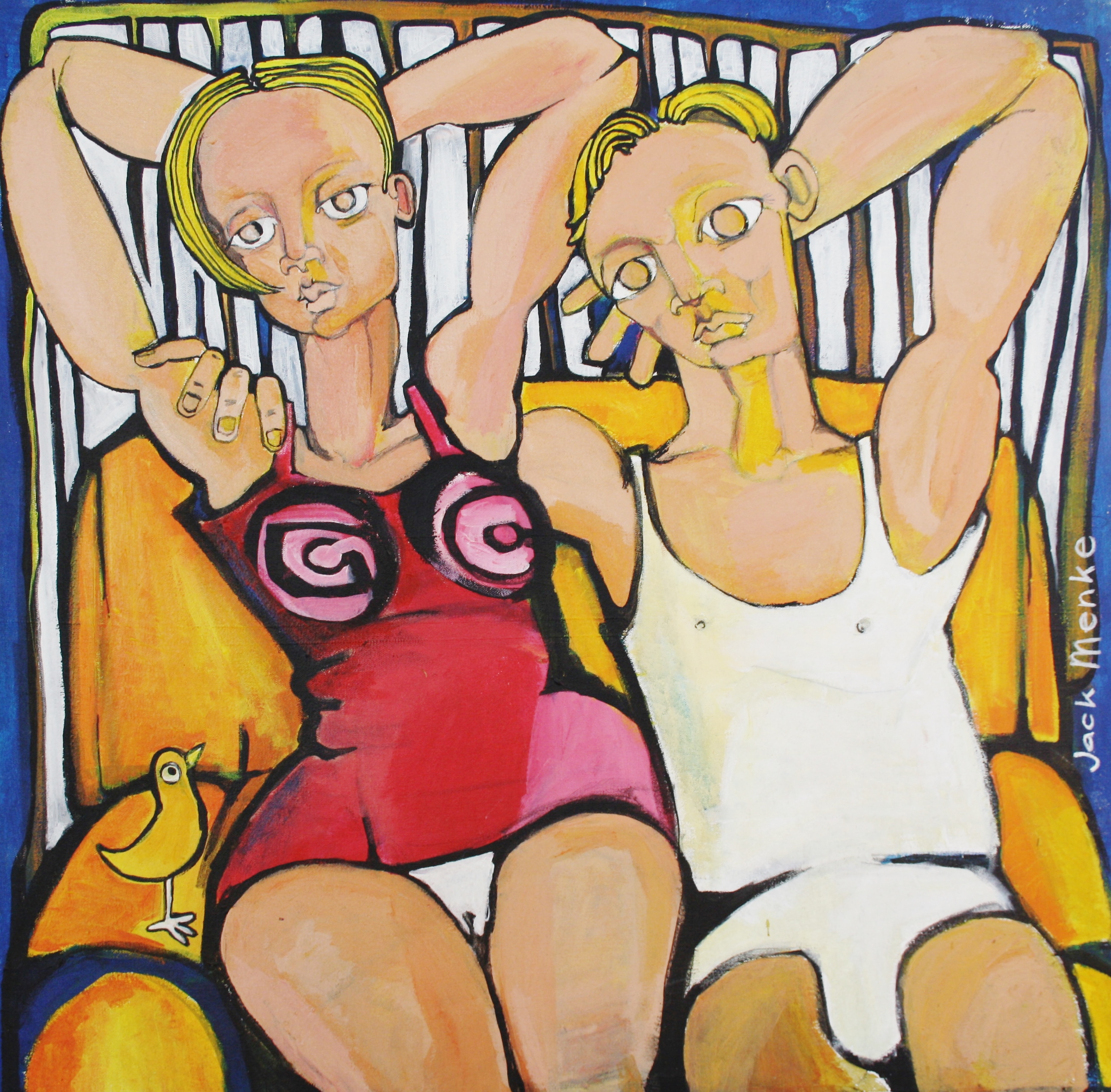 Jack Menke
Jack Menke was born in Rotterdam, Netherlands, and is from Suriname South America.
Jack is an MD tropical medicine specialist who arrived in Zambia to work in Sichili Mission Hospital in the Western Province from 1998-2002. He is currently the technical director of the Elizabeth Glaser Pediatric Aids Foundation.
He studied art history at University in Holland: early Christian art (migration of 2nd century byzantine purper codex illustrations) and Russian modern art (Master thesis: The victory over the sun, Russian cubo-futurist opera from 1913 by Malewitch, Chroetsjonych, Chlebnikov and Matjusjin.)
Jack is a co-founder of the Zambian NGO art4art (www.art4art.com) He has been painting from the Art Academy Without Walls (AAWW) since 2007.
Laurey Nevers
Laurey Nevers studied art at the Emily Carr University of Art and Design in Vancouver, Canada. She has lived in Zambia since 1992 and has participated in many local and international exhibitions. She has worked with vunerable children on a variety of projects predominately mural painting. She combines multi-layered textured paintings with translucent collaged images to create artworks that have a sense of memory and place. She currently teaches secondary art at the American International School Lusaka.
For more information contact Laurey at laureyflinto@yahoo.com
Lutanda Mwamba
Lutanda Mwamba was an established Zambian artist who has been exhibiting his prints since 1986.
Focusing on the everyday realities of the average Zambian, as well as on traditionally Zambian themes, Lutanda's prints gained him international recognition and have earned him many awards in Zambia: namely the Ngoma Award in 2009 for best 2-D artist, the Aquila Simpasa Award in 1997, and the Best Two-Dimensional Artist Award in 1996. He exhibited internationally, in both solo and group shows. Lutanda is an asset to the artistic community in Zambia due to his high degree of professionalism, his artistic experience and immense skill as a printmaker, as well as his ability to develop artistic skills in younger, emerging artists. Unfortunately Lutanda passed away earlier in 2014.

Mwamba Mulangala
Born in 1976 in Mbala, Northern Province of Zambia, Mwamba Mulangala has become one of Zambia's most prominent contemporary artists. He has had a number of local solo exhibitions. Among others, his show Way of Self was exhibited at Alliance Française of Lusaka. Another show, Resonance Within, sponsored by the European Union appeared at the Lusaka National Museum. This particular show was inspired by Mwamba's research on the north-western province of Zambia and focused on spiritual practices and cultural symbolism. Recently, Point of View, another solo exhibition, a series of acrylic enamels on metal constructions was showcased at Alliance Française of Lusaka. Mwamba was the 1999 recipient of the Henry Tayali Award for Best Two-Dimensional Artist in Zambia, a testament to his local artistic achievements. In Zambia his artworks have also become permanent additions to the Lechwe Trust collection of Zambia and the Chaminuka art collection.
Internationally, Mwamba has garnered the interest and patronage of a number of institutions and private collections. He has successfully participated in group exhibitions, including Faces – Gesichter 100 Portraits in Heidelberg, Germany; Realizing an African Renaissance at Millenia Fine Art in New York City; Afrika at Audis Husar Fine Art plus UBUNTU exhibition and art auction for the benefit of Russell Simmon's Rush Philanthropic Arts Foundation at the LA Artcore Union Center for the Arts, in Los Angeles. His first international solo exhibition Body Language opened at Bella Luna, in Jamaica Plain, Massachusetts. This was followed by Kumwesu (A place where one comes from), which opened at the Dubuque Museum of Art, in Iowa, and was sponsored by Premier Bank USA. In 2010, he received the honour of being selected by international curators from a pool of 400 African artists to be among the twenty-five African artists featured in the prestigious Dak'Art Biennale of Contemporary African Art in Dakar, Senegal. A few years ago, his artwork was acquired by the Dubuque Museum of Art in Iowa as part of its permanent collection.
Apart from exhibiting his own artwork, Mwamba has been active in the local art community. He has served as an executive committee member of the Zambia National Visual Arts Council. He currently serves on the organizing committee of Insaka Artists Trust, a non-profit artists' initiative that fosters the development of art in Zambia. In the past, he volunteered as a visual arts instructor for Kasisi Orphanage. In addition, he developed Lubuto Art Project for street kids, orphans and other vulnerable children at Fountain of Hope in Lusaka, Zambia. Recently, he was among art instructors for stART Foundation Just Imagine art workshop held among 10 children orphanages and CIDRZ clinics. He is currently employed as a visual arts teacher at the American International School of Lusaka.
Mapopa Manda
Mapopa's art is mainly inspired by political current affairs and science.As a political commentator,his work is part of a dialogue that is executed in series format.His subject matter looks deeper into the conflict of interest related to societal development as far as politics are concerned and involved.He also draws inspiration from fellow artists as well as scientists though too numerous to mention both home and abroad.He is inspired by the art of the late Mexican painter Diego Rivera,the American abstract painter Jackson Pollock,Zambians own political satirist Trevor Ford,Jean Michelle Basquiat,Andy Warhol and lastly but not the least,the physicist Albert Einstein. Mapopa is now currently working from a place called Art Academy Without Walls(AAWW) an affiliate of the Zambia National Visual Arts Council.
Natasha Evans
Natasha Evans as born in Zimbabwe but has lived in Zambia since aged 8 as both parents were born in Zambia. Natasha returned home to Zambia after completing a BA honors degree in Illustration at the Arts Institute of Bournemouth, England.
Whilst currently very busy raising 4 small children, Natasha attempts to keep working and making art alongside designing for her collection of 'Art Lamps'. Natasha has also exhibited in a handful of group exhibitions in Lusaka including a solo exhibition in 2011.
Natasha's work includes abstract as well as literal elements. She uses a mix of techniques and is inspired to make pieces that have an abstracted quality but have relatable elements be it pictorial or by using photography or text. She tries to maintain a balance between strength in aesthetic appeal and concept. She likes to combine drawing and painting skill with less used processes and techniques to create interesting texture and to add interest and question about creative processes and the different ways of making pictures.
Natasha has a particular interest in the city of Lusaka and is intrigued with the buildings and with the relationship the people who live and more in the city have to the urban landscape of Lusaka. Natasha's work more broadly focuses on ideas relating to concepts of home, belonging, travel and the parallels that can be made between psychoanalysis of these concepts and more physical and literal imagery.
Most recently Natasha has started to explore the concepts of boundaries and borders and the crossing over these and has used compositions of imagery, line, paint as metaphor to depict the movement ideas or stories.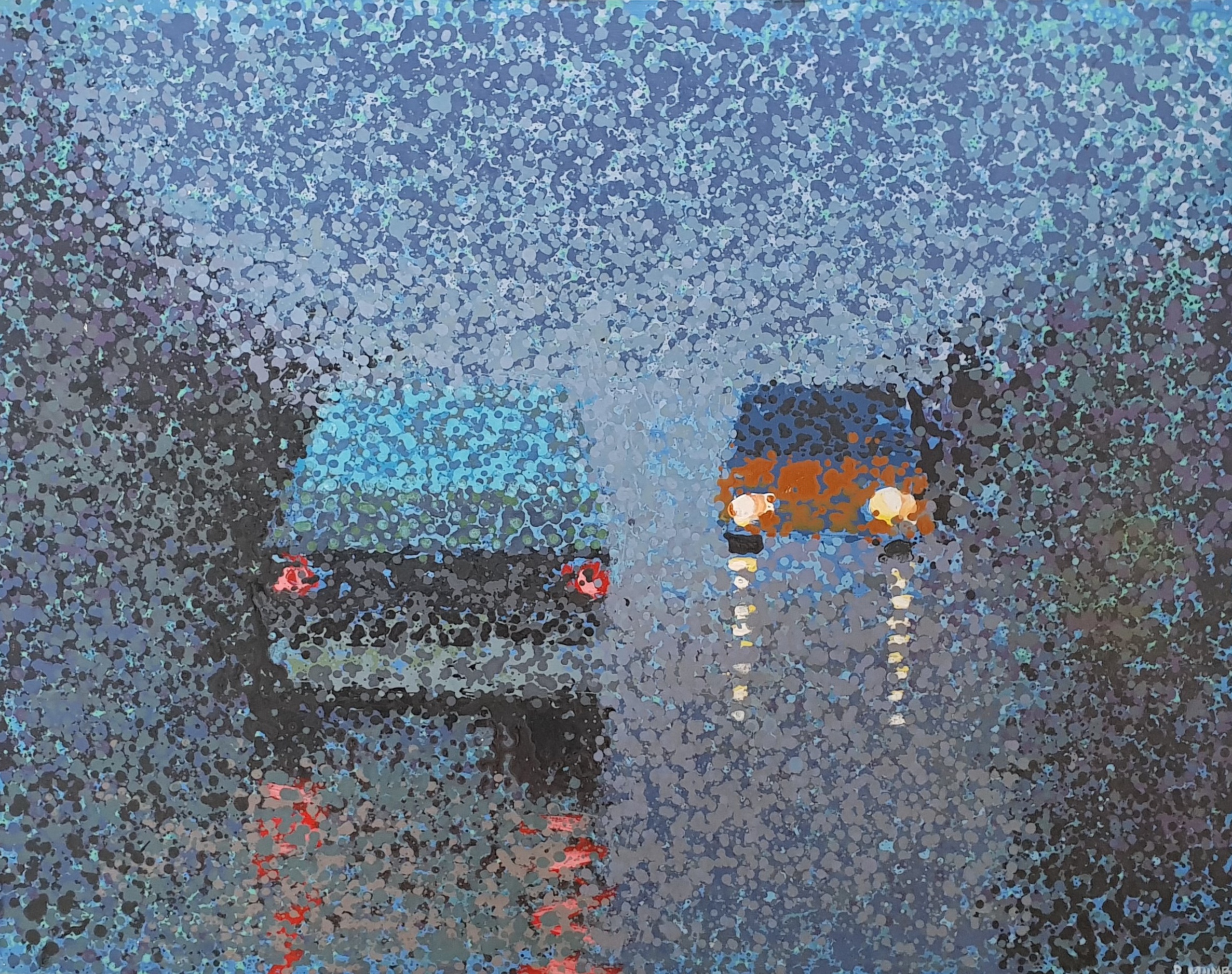 Patrick Mumba
Patrick Mumba was born in 1961 in the Northern Province of Zambia. In 1985 Patrick successfully completed the three year Art Teachers Diploma at Evelyn Hone College of applied arts and commerce. From 1986-89 Patrick taught art at Kamwala Secondary School in Lusaka. 1990 saw Patrick joining the Slade School of Fine Art and he later graduated with an honours degree in Fine Art from the University of London in 1994.
During his stay in London, Patrick had several one-man and group exhibitions in Europe and America. Since returning to Zambia he has held the Head of Education Department at Evelyn Hone College, being in charge of the Arts and Social Sciences. He has also been the chairperson for Mbile International Artists' Workshops as well as Zambia National Visual Arts Council.
Most of Patrick's paintings are in Private and Public Collections in Zambia and abroad. Patrick has been awarded a council scholarship to study for his Master's Degree in Fine Art at Rhodes University in South Africa in 2014.
Shaheen Patel
Internally driven and emotionally charged, Shaheen is enthusiastic and spontaneous, in person and on canvas. Her interest in art took root in high school. Since then she has added paint, colour and canvas to her list of favourite things, along with her dogs and dancing, cappuccinos and her camera, shoes and sushi. When she isn't painting in her studio in Lusaka, she can be found on a plane to tick off another location on her bucket list. On each trip she enjoys the art, cuisine and unique experiences with family and friends.
Her business talents started at a young age, and developed whilst at King's College London. After King's, she worked in the marketing and finance divisions of various companies, which introduced her to interesting individuals and exciting ideas, helping her become the person she is today. An unlikely turn of events lead Shaheen to an art project she couldn't resist in her hometown in Zambia. After turning to a full time painting career in her 20s, Shaheen studied at Sotheby's Institute of Art, Central Saint Martins and Chelsea College of Art and Design, and also completed the New York Arts Program. She has collaborated with artists from New York and Zambia, exhibiting her work in New York, London and Zambia.
Although the nature of her work may vary from time to time, it almost always involves paint. Today, Shaheen's work is a bold mix of styles, ranging from more commercial abstract paintings and contemporary mixed media artwork, to more naturalistic and representational portraits and forms. She has been commissioned by banks, building developments, restaurants, bars, and homes across numerous countries. Her work has also been included in several charity auctions and selected for various art competitions.
Vic Guhrs
Vic Guhrs is an artist and writer who takes his inspiration from the natural world, the mysteries of wilderness, and the uncharted no-man's land of the soul where man and animals meet.
Born in Germany, he came to Africa at the age of twenty-two in search of a life in remote places among wild animals. After completing his art studies in Johannesburg, he moved to Zambia's Luangwa Valley, where he spent the next twenty years observing, sketching, and painting, and learning the ways of the wild.
Twenty years in a remote bush camp have left an indelible mark on his sensibilities as a painter and writer. "If you live among wild animals, you can't help being made aware of an ancient connection between us. In our long history on this planet our paths converged in more ways than we care to admit. The biological kinship is obvious: they are made of the same cellular structures, with blood and bones and brains, and they breathe the same air and eat the same food.
But there's a spiritual connection, too; a common soul that binds us together on a profound and fundamental level; the animal spirit still lives in all of us.
His art – both painting and writing – reflects the insight Guhrs has gained into the mysteries of this hidden bond. Not content to portray the superficial appearance of wild animals, he tries to shed light on those elusive moments, both in nature and in our dreams, where the barriers that separate us are dissolved.
Francois d'Elbee
When he is not working on private portraits, Francois d'Elbee's photography focuses on some of the ancestral and cultural values of Africa (Gule Wamkulu, Chokwe, Zambian traditional Ceremonies…), and on its fragile and unique wildlife heritage.
He lives in Zambia and has exhibited his work in Paris, Johannesburg and Lusaka. You can visit his website at: www.francoisdelbeephotography.com
Pam Guhrs-Carr
Pam Guhrs-Carr was born in Malawi and grew up in Zambia's Luangwa Valley, one of Africa's most prolific wildlife areas, where her father, the famous writer and conservationist Norman Carr, was Game Warden. Pam grew up with an intimate knowledge and understanding of wildlife. After obtaining her Fine Art degree she returned to raise and home-school her two daughters in the bush.
Living in Luangwa's wilderness has inspired Pam to draw on the area's history and indigenous cultures. She is immersed in the arcane symbolic language of pictograms, ciphers and signs at the core of the Kunda women's initiation rock art in Eastern Zambia. These exquisite images confront and explore ideas of transformation and change – specifically life, death, birth, thresholds andliminal states.
Pam has exhibited in Zambia, Botswana, Kenya, South Africa, the United States and London. Her work is represented in museums and collections internationally and has been auctioned by Christies in London. You can visit her website at: www.pamguhrs-carr.com
Mulenga Mulenga
Mulenga Mulenga was born in 1987; she is a freelance painter, sculptor, writer and photographer. Mulenga holds an Art & Design Diploma from Evelyn Hone College of Commerce and Applied Arts. Her works can be easily be identified by the palette knife technique and her use of raw colors. She is currently practicing at the Art Academy Without Walls studio in Lusaka.

Rabson Phiri
Rabson was born in 1982. His characteristic artworks spring from his background in bicycle repairing. He received his training from the late Friday Tembo, one of Zambia's most prominent sculptors, through an apprenticeship at his art studio Ulendo. Rabson worked with Friday Tembo as a right hand man from 1998 to 2004. He currently works as a team leader at Ulendo Art Studio in Linda Compound, Lusaka.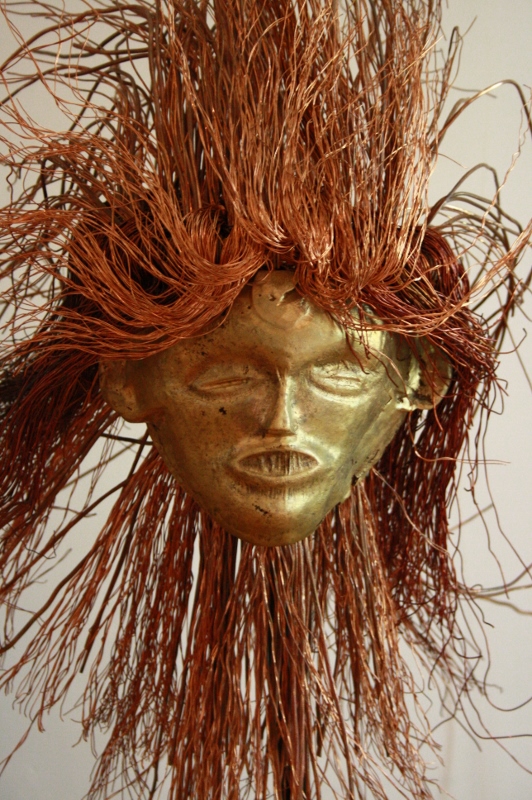 Tom Phiri
Tom Phiri was born in Lusaka in 1983. He learned to develop his skills at the Kabasa sculpture workshop initiated by famous Zambian sculptor Flinto Chandia. In 2003 he joined artist Lutanda Mwamba as an apprentice and began to work in clay, wax, stone, metal chemistry and casting alloy. This experience enabled him to gain confidence and inspiration. Tom has taken part in a number of workshops and exhibitions in Lusaka.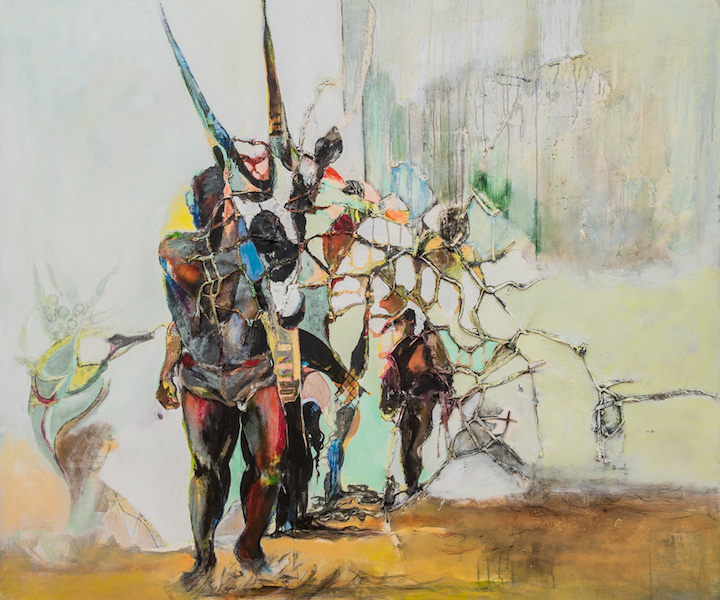 David Makala
David Makala was born in 1983, he is a part of Roots of expression studio in Lusaka where he is active as a freelance sculptor and painter. He has participated in various exhibitions in and around Lusaka. David's 'staining' technique allows for his very interesting expression.
Mulenga Chafilwa
Mulenga Chafilwa began to paint at age 7. In 1991-1993 he studied for an art teachers diploma at Evelyn Hone College, and in 1991 began painting and exhibiting on a more serious level. Since then Mulenga has participated in over 50 exhibitions in Zambia and abroad, and has taken part in several art workshops. Apart from his artistic practices, Mulenga has been involved in arts administration as a member of the National Visual Arts Council, and since 2012 as Chairperson for the same. He is also a part of the Lechwe Trust advisory committee and Insaka International Artists Workshops.
Mulenga Chafilwa's work is characterized by his observations of people and their everyday life in an ever changing and moving environment.
Agnes Buya
Agnes Buya Yombwe began her career by studying art at Evelyn Hone College in Zambia in 1987, and went on to study Art and Designs at Wimbeldon School of art in the UK. Her work has been exhibited both in Zambia and abroad, having participated in group exhibitions such as the Zambian Cultural Festival in Bonn, Germany, the Botswana National Gallery, Alliance Francaise in Lusaka and the African Center Gallery in London. In 2012 Agnes Yombwe had a solo exhibition at Livingstone Museum entitled "Social Issues", a theme that has become characteristic of her work.
Stary Mwaba
Stary Mwaba was born in Zambia in 1976, his paintings are characterized by figures rendered meticulously with intensely expressive faces surrounded with more expressionist figures and backgrounds, combining realism with a freer more abstract style. Stary's artworks have been shown in solo and group exhibitions such as "Solace of a Migrant" in Johannesburg in 2009, " Freedom in Transition" Lusaka National Museum, "Crossing Over" Caribbean Contemporary Arts 7, Port of Spain, and "Fabula" art exhibition in Rome in 2010. He has received the National Arts Council Ngoma Award, and participated in international workshops. His pieces are represented in several collections both in Zambia and abroad, such as Barclays Bank, Lusaka, Robert Wilson, New York, and Zanele Mbeke, South Africa.
Flinto Chandia
Flint Chandia (1955 - 2018)
was a renowned Sculptor based in Zambia, Africa. His pieces are included in collections all over the world. Flinto began making sculptures at an early age – inspired by his mother, a traditional potter, and by his father's carving of fishing canoes. Flinto produced elegant stone and wood pieces which have found pride of place in various private art collections as well as adorning homes and gardens around the work. Flint was one of Zambia's foremost sculptor and amongst many other awards, was awarded the President's Insignia of Recognitions of Zambia Award. Exhibiting throughout Africa and as far as USA and Japan.

Emmanuel Chibaye
Emmanuel Chibaye is an emerging artist in Zambia who is currently studying an Art degree at Evelyn Hone College, Lusaka. Emmanuel was born on the 17th October, 1989, in Ndola, Zambia's copperbelt region. Emmanuel has always been interested in creating art, and drew a lot as a young boy with pencils and crayons. Emmanuel studied art in high school, where he received a distinction in his final examinations. In 2006 he exhibited a mosaic piece with the Ndola Museum. Chiyesu Danny, graphic designer and painter, has mentored Emmanuel from a young age. As such, his style has developed into a combination of very stylised forms; one might even say to the point of being 'Dali-esque.' Emmanuel has taken part in numerous competitions in Zambia, where he has either been a nominee or winner; his first exhibition with The stART Foundation was in May 2013, and many of his works not form part of our Ongoing Exhibition.
Isaac Kalambata
Isaac Kalambata is a Zambian artist whose work addresses the distortion, misrepresentation of Africa's past, traditions while projecting possible futures of the continent's science, myth and traditions in a functional society. His creations go beyond the African challenges of poverty, political, economic challenges and looks at the possibilities of what can be achieved by Africans for Africa at the same time highlighting the rich diversity and beauty of the African people.
Working with different mediums and acrylic paints, Isaac paints for hours at night to early morning. His creative process is anchored in subject matter, ideas and experimentation. He draws his inspiration from people he meets on a day to day basis, people in history, in literature personal interactions, children at play, nature and life.
He believes that only by understanding our past and origins can we preserve and build a future that belongs to us.